2022 Jeep Renegade Best Deals Found Here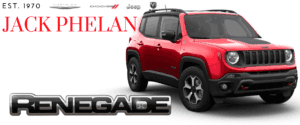 2022 Jeep Renegade: The Road is Yours To Make
The 2022 Jeep Renegade is one of the best small-suv's on the market. Not only is it capable, fuel efficient and great at taking on the open and not so open road, but it is also budget friendly and good looking. The 2022 Jeep Renegade offers a distinguish rugged appeal, round headlights and square, military style body. It is perfect for the adventuralist as well as the hobbyist, and even the day to day driver. Because of its versatility the Jeep Renegade is one of the best sellling models and on the market and at Jack Phelan we offer these vehicles at amazing deals and can help you get the ideal one for your needs. This model comes in several different trims each designed with a different kind of driver in mind because Stellantis understands that while one person enjoys adventure the other may enjoy staycations and both are fine! The trims available are in order from smallest MSRP to largest MSRP: Sport, Latitude, Altitude, (RED), Trailhawk and Limited. Note that only the Sport is available in FWD and 4×4, the rest of the models only come in the 4×4 drivetrain.
Jeep Renegade Sport
The Renegade Sport is a fantastic car like suv for a price that doesn't scare. It is one of the best deals out there for drivers seeking a reliable and good looking vehicle on the budget. And whilst the Jeep Renegade is affordable, compact and capable it still comes armed with many different features and a wide selection of colors. It comes standard with an 8.4 inch touchscreen with Uconnect 4C NAV and you can expand its exterior appeal through several different optional packages. This model comes with the nippy yet light 1.3L I4 Turbo MAir DI Engine and a 9 speed transmission in the FWD
Jeep Renegade Latitude 4×4
The Latitude is the best option for those seeking a best price, fantastic financing option or lease and those that are seeking all the benefits of the sport version with 4×4 and upgraded exterior style. Additionally the interior on the Latitude is also upgraded providing a more sleeker and modern feel. This model comes with larger wheels and the same outstanding 1.3L I4 Turbo engine that is renowned for both reliability and fuel efficiency.
Jeep Renegade Altitude 4×4
The next level up is the altitude, no pun intended and this vehicle utilizes black color accents to amplify the exterior sex appeal of your Jeep. If you are looking to buy near me or near you the Altitude edition is a beloved roomy interior SUV with all the features of the Latitude and black accents that work especially well on a white color exterior but can pair well with every single color. This trim also offers the convenience and sun and sound group to help keep you more comfortable and more entertained on the road.
Jeep Renegade (RED)
The RED is a limited run for the 2022 year aggressive looking Jeep with Willy's decals to accentuate the history of Jeep. This is a fantastic SUV for sale and at Jack Phelan we offer these and all of our vehicles at the sticker price, without any games. As far as compact crossovers go the RED makes use of granite wheels and red accents throughou the interior and exterior and offers Apple CarPlay and Android auto as well as5 optional packages to choose from. When it comes to subcompact SUVs this is one that carries a subcompact price with a compact suv's list price so if you are in the market for buying a car but want a 4×4 beast with a powerful yet fuel efficient engine than you have come to the right place.
Jeep Renegade Trailhawk
If chasing adventure is more your style than the Jeep Renegade is the best option for you. The trailhawk trim is specifically design to enhance your offroading experience with bumpers and finishes fitting to take a beating as well as a higher ground clearance to get over those pesky obstacles. It comes with smaller, two-tone rims but compenstates for the smaller rims with the wider and grippier rugged tires. This is also the first trim option that offers an upgrade into the premium leather bucket seats and the standard seats feature a terrain design to highlight the ultimate purpose of this ride.
Jeep Renegade Limited
If you fancy something fancy than the Renegade Limited may just be right for you. The creme of the crop, the peak of peaks, the Limited is everything and anything. It comes with larger wheel options, bells and whisltes and leather seats as standard. This is the one you want if you want to experience a more luxurious and comfortable ride, whilst not compromising your wallet at the gas pump.
Jack Phelan Specials and Deals
Jack Phelan is a premium dealer that understands your needs, this is why we provide the best service and offer our customers optinos to use fleet purchases and even to factory order their dream vehicle. Everyone knows that the market has been crazy lately and the best way to pay the manufacturer suggested retail price is to factory order cars in this market. While some locations may not want to help you with this endeavor we provide an honest outlet as we started out as a small business and treat everyone as if they are a part of our ever growing family. Our invoice prices are just the same as everyone elses but our hearts and transparency offer you options for lease agreements, custom ordering and getting your dream fuel economy oriented vehicles just the way you imagined.
Factory Orders Are Still Open
You may be wondering about the 2023 model and while it has been announced, there are limited changes and with the shortages and supply chain bottlenecks still prominent it may be more than half a year before the first one hits the road. Don't wait on a maybe, order your dream 2022 Jeep Renegade today to save time, money and most importantly to experience the Jack Phelan difference. We offer several different brands and we help you factory order all models, all trims and all colors, because ultimately this is your vehicle and you have to love it, and why wouldn't you pick the exact set of features that you are looking for.
The road is yours with a 4×4 2022 Jeep Renegade, you can take the high road, you can take the unpaved road and you can take the side road, with a Jeep and the best drivetrain on the market you can be certain that the ride will be enjoyable and that the price will be even better.
Welcome to the #1 2022Jeep Renegade Center in the United States Factory Order Program
We offer shipping nationwide and to all 50 states and we stock all sizes and all colors. The Jeep Renegade Home Direct Program is available in Alabama, Arizona, Arkansas, California, Colorado, Connecticut, Delaware, Florida, Georgia, Idaho, Iowa, Illinois, Indiana, Iowa, Kansas, Kentucky, Louisiana, Maine, Maryland, Massachusetts, Michigan, Minnesota, Mississippi, Montana, Nebraska, Nevada, New Hampshire, New Jersey, New Mexico, New York, North Carolina, North Dakota, Ohio, Oklahoma, Oregon, Pennsylvania, Rhode Island, South Carolina, South Dakota, Tennessee, Texas, Utah, Vermont, Virginia, Washington, West Virginia, Wisconsin, Wyoming. Find out why people from all these states say they feel like they have gained a business partner when they work with Sebastian and why many companies have selected us as their main provider of cargo vans. At the number 1 Jeep Renegade Center in the United States everyone gets treated like family. Shipping is quick and nationwide! Take the next step and reach out to us today. Do you have a particular vehicle in mind? If you don't see what you are looking for, click on Vehicle Finder Service, fill out the form, and we will inform you when vehicles arrive that match your search!