Home/Resource Center/Articles
---

2022 JEEP WAGONEER PAINT COLORS

Last Updated November 12, 2021 | Seba seo & Mr. Hollywood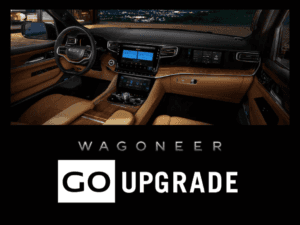 Velvet Red Pearl-Coat Exterior Paint

Diamond Black Crystal Pearl-Coat Exterior

Baltic Gray Metallic Clear-Coat Exterior

Silver Zynith Exterior

River Rock Exterior

Luxury White Pearl-Coat

Bright White Clear Coat

---
The 2022 Jeep Wagoneer is a marvel of engineering and the epitome of budget friendly large SUV luxury. In our humble opinion this is the Chevy Tahoe killer. This beauty comes packed with technology, creature comforts deluxe and a price tag shockingly low. It comes with several different wheel options including 20 and 22 inch wheel sizes and in an assortment of colors to pick from so that your family and you can have a vehicle that not only complements your driveway but also your personality. With 7 unique colors to choose from there is certainly one that will strike you as your perfect truck

2022 WAGONEER PAINT COLORS

2022 JEEP WAGONEER PAINT COLORS
SERIES II , SERIES III EXTERIOR COLORS
---
PAINT CODE – PRVVelvet Red Pearl-Coat Exterior Paint
Velvet Red Pearl-Coat Exterior Paint –
Jeep has long been a supporter of the velvet red finish on their vehicles. After all if you are looking for a unique yet classy appeal when trying to buy the 2022 Jeep Wagoneer near me and near you, you might be inclined to order a truck that is not only rare but also distinguishable. The beauty of the Velvet red is that it is not obnoxious nor extremely loud but at the same time it commands presence and glory from every corner. It provides quite a nice shine from each angle of lighting and continues to amaze onlookers at every glance. We know that you will be in love with the 2022 Jeep Wagoneer in Velvet Red the moment you lay your eyes on it.
---
PAINT CODE -PXJDiamond Black Crystal Pearl-Coat Exterior
Diamond Black Crystal Pearl-Coat Exterior –
This is a classic and everyone knows. The black large SUV is iconic for the serious owner who likes to keep a private lifestyle but still wants to enjoy the finer things in life. The Jeep looks fantastic in diamond black especially when the slight sparkles emanate from every angle and provide a lightshow for the joy of all onlookers.
---
PAINT CODE -PASBaltic Gray Metallic Clear-Coat Exterior
Baltic Gray Metallic Clear-Coat Exterior -The baltic gray is a dark grey but with a metallic finish, unlike the diamond black there is no sparkle here from the pearl just shine and its a glorious combination. During the day the baltic gray exudes confidence and vehicular passion, but at night time it converts into a black SUV, that does not stand out and provides plenty of privacy, it is the kind of vehicle that provides the best of both worlds. In a world of simple colored cars be the unique driver who knows what he/she wants.
---
PAINT CODE -PSESilver Zynith Exterior
Silver Zynith Exterior – Ahhh, the beautiful silver, the classic, everyone loves the silver color for its ability to remain dirt free in nearly all situations. It is a perfect SUV for those trying to keep their vehicle near perfection and want a vehicle that is truly universally beloved. Everyone feels comfortable driving a silver vehicle and that is why a vast majority of vehicles you see on the road are in fact silver or gray. This color on the Wagoneer looks even more stunning so if you are looking for the ideal road trip king for sale near you or near me you have found the right place at Jack Phelan.
---
PAINT CODE –River Rock Exterior
River Rock Exterior – This color is so rare and unseen on Jeeps and vehicles overall that it has attracted tons of attention. That is right you can get the 2022 Jeep Wagoneer in a dark watery green. What is amazing about this color is that it is pretty, unique and provides a sense of adventure whilst maintaining a low profile. It is not a color that immediately screams for attention but it is certainly a color worthy of your attention.
---
PAINT CODE -PW2Luxury White Pearl-Coat
Luxury White Pearl-Coat – The 2022 Jeep Wagoneer has to be offered in this color, this is that elephant tusk color, this is that color that simply emanates luxury and beauty. It showcases that somethings that are perfect don't have to be ideal. It stands out from the snow, it isn't too bright, it hides dust and dirt very well. This color is soft, welcoming and velvety and most of all it is certainly stunning. You can order your 2022 Jeep Wagoneer today and change the way you see SUV's around you.
---
PAINT CODE -PW7Bright White Clear Coat
Bright White Clear Coat – There could not be a black SUV without a white to complement it. The bright white is the color of the peaks of mountains, it's the color of the freshly finished condominium complex. It feels cold and industrial but it makes the lines and edge permeate so much more. The white finish is a safe bet and it is certainly popular. Get yours today!
---
Whether you are looking for a unique SUV. pickup truck, a cargo van or even a muscle car the Jack Phelan team has got you covered. We will find you the perfect vehicle for the perfect price even in these crazy times.
---
---
2022 JEEP WAGONEER PAINT COLORS
SERIES II , SERIES III
---
Fuel economy – city (mpg)
16
Fuel economy – highway (mpg)
22
Fuel economy – combined (mpge)
N/A
Recommended fuel
Regular unleaded
Powertrain
Specification
Dimension
Cylinder configuration
V-8
Horsepower (hp)
392 @ 5,600RPM
Transmission
8-speed automatic
Entertainment
Specification
Dimension
External digital memory control
Yes
Voice activated audio control
Yes
Weights
Specification
Dimension
Gross vehicle weight rating (GVWR) (lbs.)
7,400
Towing capacity (lbs.)
10,000
Capacities
Specification
Dimension
Passenger volume (cu.ft.)
179
Maximum interior cargo volume (cu.ft.)
116.7
Limited Warranty
Specification
Dimension
Basic distance (miles)
36,000
Powertrain distance (miles)
60,000
Roadside assistance months
60
Roadside assistance distance (miles)
60,000
---
---
---
SERIES II , SERIES III
Welcome to Jack Phelan Chrysler Dodge Jeep Ram
When you walk into Jack Phelan Chrysler Dodge Jeep Ram, you will be able to notice right away the difference between us and your run-of-the-mill dealership. You will be greeted with a smile and shown a fantastic variety of New Vehicles TRX that have limited time pricing specialized for your needs. If you are looking for a reliable Certified Pre-Owned or Used Vehicle, look no further than your Countryside neighborhood dealership.
From the new 2022 JEEP WAGONEER,RAM TRX and Jeep Wrangler to the new Jeep Cherokee, and many more popular models.
Our Countryside, IL auto dealership is solely focused on creating a unique shopping experience, taking out the stress and bringing back the integrity by offering the best deals and prices available on your new car, truck, van, or SUV. Value your trade-in and see how far your used vehicle can go towards one of our special one-of-a-kind vehicles on our lot. We serve customers from Countryside, Chicago, Downers Grove, Darien, Westchester, Burbank, Cook County, DuPage County, Hodgkins, LaGrange, Hickory Hills, Hinsdale, Bolingbrook, Lisle, Cicero, Burr Ridge, Lyons, Oak Lawn, Tinley Park, Joliet, Orland Park, Naperville, and the surrounding Chicagoland areas because they know when they come to Jack Phelan Chrysler Dodge Jeep Ram, they will be treated like family. Take the next step and reach out to us today. Do you have a particular vehicle in mind? If you don't see what you are looking for, click on Vehicle Finder Service, fill out the form, and we will inform you when vehicles arrive that match your search! Stop in or call us today .
Please stop by Jack Phelan Chrysler Dodge Jeep Ram to find your perfect Jeep vehicle or give us a call at (708)-295-3053