2023 Jeep Gladiator-The Best Truck for Open-Air
2023 Jeep Gladiator-The Best Truck for Open-Air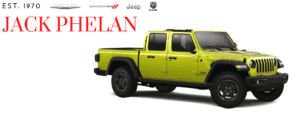 2023 Jeep Gladiator For Sale, Best Price, Every time
The 2023 Jeep Gladiator is America's favorite off-road, leisure pickup. It is the perfect size for all of your all-terrain toys and allows for a variety of activities, including making new trails, discovering new adventures and your everyday commuting needs. For 2023 The Jeep Gladiator is offered in 9 unique trims including the Sport, Willys Sport, Sport S, Freedom, Willys, Overland, Rubicon, Mojave and High Altitude.
Each trim offers its own gamut of features and benefits and has its own style: from luxury appeal of the High Altitude, to the Rugged and Ready Mojave. At Jack Phelan, our team members understand that every single customer has their own needs when it comes to vehicle shopping and we will make sure to help you find the ideal vehicle for you every time

Why 2023 Jeep Gladiator? Simply Put: 4×4
The 2022 Jeep Gladiator and the 2023 Jeep Gladiator are champions of the open road. They are not only the best deal near me and near you but they are also a very capable offroad vehicle that can tow a nice amount of weight and help you overcome the steepest of hills and battle through the heaviest winters with the amazing, award winning 4×4 drivetrain.
The 2023 Jeep Gladiator is basically a Jeep Wrangler with a bed. It offers the same high quality features, extreme durability yet simple and forgiving engine. No matter what color you are looking for, or what price at Jack Phelan Jeep Dodge Chrysler Ram we can help you find the perfect vehicle and get you started on your factory order. Honest price, honest service and speed are our motto.
Standard Engine and Options on The Gladiator
There is a reason that the best pickup truck in the market is named the Gladiator. Gladiators were conquerors of the ring, and the Jeep Gladiator is the conqueror of the various terrains you choose to have it challenge.
At Jack Phelan however, we are gladiators of the best service, talented butlers of custom ordering and honest accountants that give you full pricing details before you sign, so you can remain confident with your decision.
The Gladiator even at the entry level model which is called the Sport rocks a fairly solid sleuth of features and comes equipped with the extremely capable, customer favorite 3.6L V6 Engine with stop/start. By default and entry level model comes with a manual transmission but most of them are ordered with an automatic 8 speed.
All Gladiators come with 4×4 capability on a part time setup that you can shift to your liking for various road conditions. There are 9 colors to choose from so that you can make your Jeep uniquely yours. For 2023, regardless of the model you will get at the very least a Uconnect 44.0 with 7.0 inch Touch screen display and many more features. Gone are the days of completely stripped interiors of the Wrangler, the standard Sport comes equipped with all the necessities you might wanton for.

How Can I buy a Gladiator in This Market?
You may have recently watched the news and wondered how the purchase process for a brand new vehicle will work with supply chain issues bogging down manufacturers as well as long wait times and price gouging practices of various retailers. At Jack Phelan we believe in transparent pricing and honest business practices and while there aren't a whole lot of discounts offered on the amazing Gladiator we will do everything we can to help you save money and find the ideal truck for you.
Our sales staff works tirelessly to bring you the best combination of customer service, expedience and price flexibility. Call now to learn about the Jack Phelan difference and how you can become a part of our ever growing family.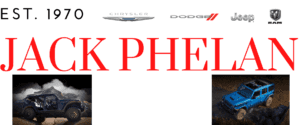 Welcome to the #1  Jeep Gladiator Center in the United States 
We offer shipping nationwide and to all 50 states and we stock all sizes and all colors. The Jeep Gladiator
Home Direct Program is available in Alabama, Arizona, Arkansas, California, Colorado, Connecticut, Delaware, Florida, Georgia, Idaho, Iowa, Illinois, Indiana, Iowa, Kansas, Kentucky, Louisiana, Maine, Maryland, Massachusetts, Michigan, Minnesota, Mississippi, Montana, Nebraska, Nevada, New Hampshire, New Jersey, New Mexico, New York, North Carolina, North Dakota, Ohio, Oklahoma, Oregon, Pennsylvania, Rhode Island, South Carolina, South Dakota, Tennessee, Texas, Utah, Vermont, Virginia, Washington, West Virginia, Wisconsin, Wyoming. Find out why people from all these states say they feel like they have gained a business partner when they work with Sebastian and why many companies have selected us as their main provider of cargo vans. At the number 1 Jeep Grand Cherokee
 Center in the United States everyone gets treated like family. Shipping is quick and nationwide! Take the next step and reach out to us today. Do you have a particular vehicle in mind? If you don't see what you are looking for, click on Vehicle Finder Service, fill out the form, and we will inform you when vehicles arrive that match your search!