2023 Jeep Grand Cherokee for sale near me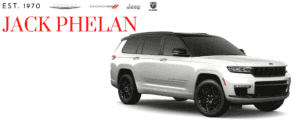 2023 Jeep Grand Cherokee for sale near me 
One of the most beloved American SUV's is back for another year of adventures and road trips, and yes we are talking about the 2023 Jeep Grand Cherokee.  With a new face and a new attitude the 2023 Jeep Grand Cherokee is certain to change the way you experience the open road.  Whether you are looking for a reliable 4×4 SUV that can handle all weather conditions or an off-road ready luxury SUV, the Jeep Grand Cherokee has you covered.
Many Trims for Many Whims Jeep Grand Cherokee for sale near me
The 2023 Jeep Grand Cherokee comes in 6 unique trims each with designed with a different focus in mind.  The available trims are Laredo, Altitude, Limited, Overland, Summit and Summit Reserve. The 2023 Jeep Grand Cherokee Laredo is modern, sleek and fuel efficient.  Equipped with the 3.6L V6 the Laredo cranks out 293 horsepower which is plenty enough to tow your toys and also get you up and going to highway speeds so that you do not interfere with traffic. Capable of seating 5 passengers and equipped with plenty of cargo space, the 2023 Jeep Grand Cherokee Laredo is the perfect every day grocery getter as well as the perfect road trip machine. It comes with either the 4×2 or the 4×4 drivetrain to make sure that you get the vehicle that is right for you.
2023 Jeep Grand Cherokee Altitude for sale near me 
The 2023 Jeep Grand Cherokee Altitude best price near me and near you is the Laredo with upgraded exterior curb appeal and black accents throughout.  It comes equipped standard with the Uconnect 5 and an 8.4 inch touch screen display which features the wireless Apple CarPlay and Android Auto. Upgrade it with amazing packages including the power sunroof, trailer tow prep.  The interior comes with standard leather trimmed bucket seats. Again equipped with the 3.6L V6 this puppy is capable of quick get up but is also fuel efficient, which with the rising fuel prices is a fantastic option.
2023 Jeep Grand Cherokee Limited for sale near me 
The 2023 Jeep Grand Cherokee Limited best deal is an amazing option for those looking to get a bit more luxury out of their SUV.  Equipped with upgraded wheels and available with 8 colors this amazing SUV brings enough power and enough luxury to keep even the most picky drivers satisfied. This trim comes standard with the Uconnect 5 NAV that features a whopping 10.1-inch touch screen display equipped with wireless Apple CarPlay and Android Auto. In this trim you also get upgraded Capri leather seats available in two colors, or you can get the same seats but with perforated options. Whilst the standard speakers system is plenty crisp and pro-grade, the 9 amplified speaker system with subwoofer takes your interior sound to another level. Choose from a lineup of amazing packages that you can add to make your Jeep experience even grander. Of course Jeep engineers focus on safety and so this Jeep comes standard with Adaptive cruise control, blind spot and cross path detection, park view and park sense and advanced airbag technology because at FCA we understand that your passengers are your most precious cargo
2023 Jeep Grand Cherokee Overland, Summit and Summit Reserve
The last 3 trims that are available are the Overland, Summit and Summit Reserve.  Overland is pure luxury at a refined yet affordable price, whilsts Summit is truly the next step in modern engineering.  The Summit Reserve is filled to the brim with features and offers so many bells and whistles that tomes can be written on it.  The Summit Reserve is the only one on the list that only comes in 4×4.  All three trims come in either the 3.6L V6 or the 5.7L V8 Hemi engine options to make sure that your vehicle of choice has all the power necessary to get you and your toys to your destination.
2023 Jeep Grand Cherokee L 3rd Row Options
When it comes to vehicles having options is key and at FCA the engineers want you to understand that you have tonnes of options available to you.  If you have a larger family and you require more seating then you will be happy that all of the trims above come in an optional L designation which features a 3rd row seat for 2 additional passengers.
Jack Phelan Specials and Deals
Jack Phelan is a premium dealer that understands your needs, this is why we provide the best service and offer our customers optinos to use fleet purchases and even to factory order their dream vehicle. Everyone knows that the market has been crazy lately and the best way to pay the manufacturer suggested retail price is to factory order cars in this market. While some locations may not want to help you with this endeavor we provide an honest outlet as we started out as a small business and treat everyone as if they are a part of our ever growing family. Our invoice prices are just the same as everyone elses but our hearts and transparency offer you options for lease agreements, custom ordering and getting your dream fuel economy oriented vehicles just the way you imagined.
Welcome to the #1 2023 Jeep Grand Cherokee Center in the United States Factory Order Program
We offer shipping nationwide and to all 50 states and we stock all sizes and all colors. The Jeep Grand Cherokee
Home Direct Program is available in Alabama, Arizona, Arkansas, California, Colorado, Connecticut, Delaware, Florida, Georgia, Idaho, Iowa, Illinois, Indiana, Iowa, Kansas, Kentucky, Louisiana, Maine, Maryland, Massachusetts, Michigan, Minnesota, Mississippi, Montana, Nebraska, Nevada, New Hampshire, New Jersey, New Mexico, New York, North Carolina, North Dakota, Ohio, Oklahoma, Oregon, Pennsylvania, Rhode Island, South Carolina, South Dakota, Tennessee, Texas, Utah, Vermont, Virginia, Washington, West Virginia, Wisconsin, Wyoming. Find out why people from all these states say they feel like they have gained a business partner when they work with Sebastian and why many companies have selected us as their main provider of cargo vans. At the number 1 Jeep Grand Cherokee
 Center in the United States everyone gets treated like family. Shipping is quick and nationwide! Take the next step and reach out to us today. Do you have a particular vehicle in mind? If you don't see what you are looking for, click on Vehicle Finder Service, fill out the form, and we will inform you when vehicles arrive that match your search!