2023 Jeep Grand Wagoneer for sale near me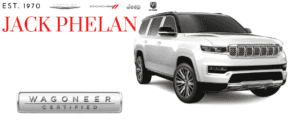 2023 Jeep Grand Wagoneer for sale near me
2023 Jeep Grand Wagoneer and Grand Wagoneer L
The Grand Wagoneer is the pinnacle of American design and it is the new kid on the block on the large SUV market that is thriving. Whether you enjoy long road trips and need all the space for your gear or you are a serious camper, or perhaps even a large family of six or seven the Grand Wagoneer provides a premium upper class ride experience for you and all of your passengers whether they are children or executives. The Grand Wagoneer comes in 4 unique trims allowing everyone to have their own kahuna, their way. Whether you are looking for simplicity and ample features or you are looking for the have it all experience the Jeep Grand Wagoneer can provide in many different ways.
2023 Jeep Grand Wagoneer Trims
There are four different versions of the 2023 Jeep Grand Wagoneer for sale: Series I, Series II, Series III and Obsidian, not in that order. All trims are available in either the all powerful 6.4L V8 engine which provides a ton of power for such a large vehicle and comes with a whopping 471 horsepower and 455 lbs per foot of torque or the 3.0L Hurricane Twin Turbo 510 I6 Engine w/stop start which is efficient, powerful and perfectly suited for the job, on and off the road. Because of the size of the Grand Wagoneer as well as its Jeep affiliation it is only available in 4×4 to make sure that you and all your passengers are safe regardless of the weather and road conditions and with a Jeep you get all of the assurance that your 4×4 system is the cream of the crop.
2023 Jeep Grand Wagoneer Series I
Some may balk at the idea of getting a luxury SUV without going all out, but the Series I trim offers a plethora of luxury features simply not available on most vehicles on the market. It comes in an array of colors both monotone and dual tone and comes standard with 20 inch wheels which can be upgraded to 22. The interior is made up of Nappa Leather seats that come with a massage option standard and the center console offers a Uconnect 5 on a 12 inch touch screen display with onboard navigation as a standard. There are of course plenty of add-ons available as well as additional features that can be plucked onto this trim but the standard features list is a laundry list including heated and ventilated seats, heads-up displays and much much more.
2023 Jeep Grand Wagoneer Series II
The Series II comes with all the features of the Series I but the 22 inch wheels are standard and the interior is made up of an upgrade Palermo leather seating offered in 3 different colors versus the 2 on the Series I. Additionally you can upgrade the sound system to the astonishingly crisp McIntosh MX1375, the king of home audio solutions that truly makes your vehicle feel like the inside of a concert hall. The 2023 Jeep Grand Wagoneer just got that much better, inside and out.
2023 Jeep Grand Wagoneer for sale near me Obsidian
Are you the dark and mysterious type? Would you like your SUV to reflect that personality trait of yours? Well, now you can with the obsidian trim. This trim offers darker tones and accents to bring out the Batman within you. It comes with all the standard features of the Series II but the interior finish is more modern and industrial and the passenger entertainment screen embedded above the glovebox is now standard.
2023 Jeep Grand Wagoneer Series III
This is it, you have arrived at the top and you want your vehicle to reflect that. The Series III brings all the luxury accents and features of the Series II and the Obsidian and builds on them with standard Quilted Palermo leather seats as well as wooden finishes throughout. The two spoke steering wheel shows the modern side of the vehicle and there are more screens that one can count on one hand throughout the entire interior. You will never be bored in a Series III.
Grand Wagoneer L (New for 2023)
The Grand Wagoneer took the market by storm in 2022, but in 2023 it is getting an even bigger brother: the 2023 Grand Wagoneer L for sale near me and near you in all states. The L is 12 inches longer than the standard Grand Wagoneer which includes a 7-inch increase to the wheelbase and a 5 inch increase in the rear overhang providing you with more cargo room and plenty of towing capacity, like up to 9,750 lbs of towing. The L however does not bring any other interior upgrades or features as it is impossible to bring more to a spaceship like experience currently provided by the Grand Wagoneer.
Jack Phelan Specials and Deals
Jack Phelan is a premium dealer that understands your needs, this is why we provide the best service and offer our customers optinos to use fleet purchases and even to factory order their dream vehicle. Everyone knows that the market has been crazy lately and the best way to pay the manufacturer suggested retail price is to factory order cars in this market. While some locations may not want to help you with this endeavor we provide an honest outlet as we started out as a small business and treat everyone as if they are a part of our ever growing family. Our invoice prices are just the same as everyone elses but our hearts and transparency offer you options for lease agreements, custom ordering and getting your dream fuel economy oriented vehicles just the way you imagined.
Welcome to the #1 2023 Jeep Grand Wagoneer Center in the United States Factory Order Program
We offer shipping nationwide and to all 50 states and we stock all sizes and all colors. The Jeep Grand Wagoneer
Home Direct Program is available in Alabama, Arizona, Arkansas, California, Colorado, Connecticut, Delaware, Florida, Georgia, Idaho, Iowa, Illinois, Indiana, Iowa, Kansas, Kentucky, Louisiana, Maine, Maryland, Massachusetts, Michigan, Minnesota, Mississippi, Montana, Nebraska, Nevada, New Hampshire, New Jersey, New Mexico, New York, North Carolina, North Dakota, Ohio, Oklahoma, Oregon, Pennsylvania, Rhode Island, South Carolina, South Dakota, Tennessee, Texas, Utah, Vermont, Virginia, Washington, West Virginia, Wisconsin, Wyoming. Find out why people from all these states say they feel like they have gained a business partner when they work with Sebastian and why many companies have selected us as their main provider of cargo vans. At the number 1 Jeep Grand Wagoneer
Center in the United States everyone gets treated like family. Shipping is quick and nationwide! Take the next step and reach out to us today. Do you have a particular vehicle in mind? If you don't see what you are looking for, click on Vehicle Finder Service, fill out the form, and we will inform you when vehicles arrive that match your search!