Shop the Latest Jeep Wrangler Unlimited Lease Deals & Offers in Chicago IL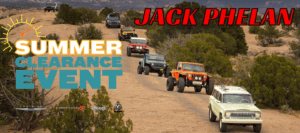 The 2020 Jeep Wrangler Unlimited is an iconic vehicle renowned for it's capability and off-road talent.  From the bulky and rugged tires to the amazingly resilient shock struts to the rugged yet plush interior the Wrangler does not fail to awe anyone who sits inside.  In fact it is one of the very few SUV' s that is both off-road ready and a convertible.  We recently showed off our limited edition 2020 Jeep Wrangler Unlimited Rubicon with the brand new 3.0 Liter EcoDiesel engine.  The best deal on a 2020 Jeep Wrangler is here at Jack Phelan and we are showcasing the vehicle in various locations across Chicago, check out the photo of it with the Sears (Willis) tower in the background in the gorgeous Sting Gray Color.  The Rubicon is made to tackle new roads and new challenges and with our great programs you can get the best buy deal and save time and save money at the pump and on the price. 
The diesel engine is not new to the FCA family but it is one of the most desirable engines for this trekking beast.  Make new paths and carve out new roads in this best price off-road genie.  Once you figure out that you are ready to get the nicest Jeep on the market you just need to figure out the right dealership to pick it up from and that dealership is Jack Phelan Chrysler Dodge Jeep Ram. With hundreds of choices from both vehicles to financing programs when you come to Jack Phelan to check out the 2020 Jeep Wrangler Unlimited Rubicon 4×4 for sale you will get to experience the best purchase process possible. And with Covid-19 still around you want to make sure you are working with a dealership that cares.  The jungle and the concrete jungle await the moment you strap into the seat of the brand new 2020 Jeep Wrangler Unlimited.  Enjoy the plush leather interior, the removable roof and doors and check out our home delivery option that allows you to maximize spread prevention as well as minimize your time investment in acquiring a vehicle.
Whether you want to lease or buy the new 2020 Jeep Wrangler you are probably curious about financing, interest rates as well as the online banks we use and the safety features available on the Wrangler.  Our financing options are rather simple and you don't have to worry about understanding complex fiscal instruments like certificates of deposit.  Our finance team is ready and able to showcase the various options available on the road crossing rubicon that won't drain your emergency fund and bank account due to the best price and lease programs, current offers and an amazing fuel economy when paired with the diesel engine.
If you are wondering where we got such amazing shots you will be glad to know that is a small nook accessible to the public by simply going to a local Wholefood market and driving to the bottom of the parking lot.  You can get out of the lot on the bottom floor and experience the amazing back drop of the skyline of the city of Chicago whether you are in a Jeep Wrangler or another vehicle.
For 2020 Jeep has packed astonishing safety features into it's latest creation.  Enjoy long road trips again because of the amazing adaptive cruise control. Let your kids (so long as they are old enough of course) take the steering wheel knowing that the vehicle is equipped with forward collision avoidance plus rear park assist and much more.  The Rugged Wrangler for 2020 has finally received the tech features that you have been waiting for.  So if you want to buy a loaded Wrangler from a dealer you can trust you no longer have to search for hours on end, just come to Jack Phelan and check out our current and best offers as well as all of our vehicles.  At Jack Phelan we believe in variety and we have all trims and all colors available for you to choose from.  Give us a call today so that we can help you get started with the latest model.
Browse Jeep Wrangler Unlimited Trims, Options, and Packages
Jack Phelan Dodge Chrysler Jeep Ram…and the areas We Serve
We are a full-service dealership conveniently located in Countryside. Jack Phelan Dodge Chrysler Jeep Ram of Countryside is proud to serve our neighbors around the entire Illinois area including towns and cities such as; Countryside, Downers Grove, Darien, Westchester, Burbank, Cook County, DuPage County, Hodgkins, LaGrange, Hickory Hills, Hinsdale, Bolingbrook, Lisle, Cicero, Burr Ridge, Lyons, Oak Lawn, Tinley Park, Joliet, Orland Park and surrounding Chicagoland areas.