New Jeep Wrangler Unlimited Rubicon 4x4 Chicago Best Lease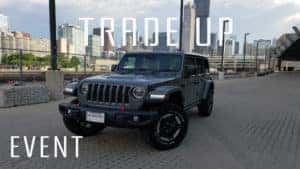 The 2020 Jeep Wrangler Unlimited Rubicon 4×4 with the new to this class 3.0L Ecodiesel engine truly is a head turner.  Tried out by our team in the Sting Gray color this off-road queen is certainly ready to tackle the concrete jungle as well as the road less traveled.  With bulky rugged tires, improved shocks and an efficient engine the Wrangler Rubicon does not disappoint.  The additional aesthetics and red highlights add to the rugged and performance focused appearance. 
Pictured with the now Willis (formerly Sears) Tower in the back the Wrangler is ready to help you create your adventures.  The location of the shot is near the West Loop of Chicago Illinois, an affluent neighborhood filled with adventure seekers like you that work hard and play hard. The specific location is just a tad bit outside of the parking lot of a local Whole Foods Market.  Although accessible to the public be careful when taking photographs there as traffic does move through this specific spot.  You can catch some amazing views during the day and at night.
The 2020 Jeep Wrangler Unlimited Rubicon features the latest technology and safety features like adaptive cruise control, forward collision warning with stop and park assist with stop.  It's rugged roll-cage houses premium alpine speakers to deliver boisterous sounds with the top on or off.  The hard top makes the SUV flexible for various weather and climate conditions and make it an exciting versatile and convertible SUV. Remove all the doors for added pleasure and don't worry about being caught in the rain, the interior is made to handle getting wet from off-roading. 
Join the adventure and pick up a brand new or certified pre-owned Jeep Wrangler from Jack Phelan.  We have the best selection, the best prices, the best deals and much much more. Give us a call when you are ready to experience adventure in a whole new way.