Factory Order Program 2022 Chrysler 300 MSRP ONLY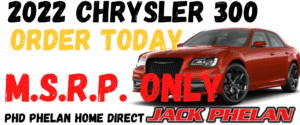 Factory Order Program 2022 Chrysler 300 MSRP ONLY
 Factory Order Program 2022 Chrysler 300 MSRP ONLY MSRP ONLY
Factory order 2022 Chrysler 300
The 2022 Chrysler 300 can now be yours whenever you are ready, and don't worry about all those crazy news about shortages, the honest dealerships like Jack Phelan in Countryside can help you get a fair deal on an amazing vehicle and help you find a vehicle that fits your needs exactly≥.  All you have to do is factory order with us and we can have the vehicle shipped to your home or office or you can pickup from us whenver you are ready.
 2022 Chrysler 300 Models
LXCH48-300 TOURING
LXCT48-300 TOURING L
LXCL48-300S
LXFH48-300 TOURING AWD
LXFT48-300 TOURING L AWD

 2022 Chrysler 300 Engine Options 
3.6L V6 24V VVT Engine
5.7L V8 HEMI MDS VVT Engine
2022 Chrysler 300
The 300 has been an American staple of automotive excellence for decades.  Known as a leader in full size/large sedans this vehicle brings high end features and high end interior appeal at an affordable price.  It's smooth suspension will make you appreciate every road and make you feel nearly no pot holes and its versatility in options and trims will allow you to get one that is truly and uniquely yours.  Whether you are looking for an amazing deal, a luxury sedan or something more you have found it with the 2022 Chrysler 300.  The 2022 Chrysler 300 comes in 4 trims including the Touring, Touring L, 300S V6 and 300S V8.  The first two trims are available in rear and all wheel drive, whilst the last two only come in rear wheel drive due to the power and the engine size on them. 
2022 Chrysler 300 Touring
The touring is the entry level into the 300 world.  Available in 6 distinct colors its comfortable interior and amazing exterior will make you appreciate your life. It comes standard with 17 inch wheels and quite a few features right out of the box, but there are many customization options when you go to build your own that can allow you to get a vehicle that truly feels yours. Choose from different packages and appearance groups to spruce up your interior, or enjoy the standard features which are in no one way shape or form lacking.  The 2022 Chrysler 300 touring comes standard with a 3.6L V6 pentastar engine which is an award winning setup that packs a punch, is durable but also efficient. 
2022 Chrysler 300 Touring L
The Touring L brings luxury and aesthetic upgrades to the touring edition.  Also available in 6 unique colors this puppy comes standard with a Uconnect 4C with 8.4 Inch touch screen and comfort upgrades such as leather trimmed bucket seats and leather wrapped steering wheel.  Enjoy heated seats and more, or upgrade with the comfort group package and enjoy features like premium Alpine sound system, heated steering wheel and much much more. Upgrade with adaptive cruise control with stop and more with the safety tech group. 
2022 Chrysler 300S V6 For Sale
Looking for a 2022 Chrysler 300 for sale near me and near you, worry not as you have found the right place, and if you are looking for a Chrysler 300S V6, which is the sporty upgrade for the Chrysler 300, we have it.  This trim comes in 5 unique colors and standard black wheels as well as many aesthetic interior and exterior upgrades that make the vehicle meaner and leaner and also cleaner.  Enjoy complimentary upgrades like 4C Navigation system and much much more. 
2022 Chrysler 300S V8
If the 3.6L engine does not provide you with enough power on the 2022 Chrysler 300 for sale near me and near you, the 8 cylinder baby certainly will.  More power, more torque and faster speeds, whilst still maintaining the high level of luxury and the safety as well as comfort.   This is the perfect all American sedan for families, individuals and executives alike.
 2022 Chrysler 300
Towing Capacity
Welcome to the #1
 2022 Chrysler 300
Center in the United States Factory Order Program
Our Countryside, IL auto dealership is solely focused on creating a unique shopping experience, taking out the stress and bringing back the integrity by offering the best deals and prices available on your new Chrysler 300 and that is why we have created the Chrysler 300 Home Direct Program or PhD. This program allows you to buy a new Chrysler 300 from the comfort of your own home and having it delivered to your home or office without you needed to ever step into the dealership. We offer shipping nationwide and to all 50 states and we stock all sizes and all colors. The Chrysler 300 Home Direct Program is available in Alabama, Arizona, Arkansas, California, Colorado, Connecticut, Delaware, Florida, Georgia, Idaho, Iowa, Illinois, Indiana, Iowa, Kansas, Kentucky, Louisiana, Maine, Maryland, Massachusetts, Michigan, Minnesota, Mississippi, Montana, Nebraska, Nevada, New Hampshire, New Jersey, New Mexico, New York, North Carolina, North Dakota, Ohio, Oklahoma, Oregon, Pennsylvania, Rhode Island, South Carolina, South Dakota, Tennessee, Texas, Utah, Vermont, Virginia, Washington, West Virginia, Wisconsin, Wyoming. Shipping is quick and nationwide! Take the next step and reach out to us today. Do you have a particular vehicle in mind? Factory Order Program 2022 Chrysler 300 MSRP ONLY.