Factory Order Program 2022 Dodge Challenger MSRP ONLY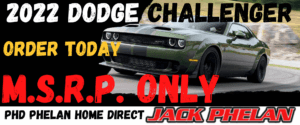 Factory Order Program 2022 Dodge Challenger MSRP ONLY
Factory Order Program 2022 Dodge Challenger MSRP ONLY
2022 Dodge Challenger
The Challenger is a classic vehicle renowned for its power, its massive stance and its ability to get up and go and Stellantis owes its success to the Challenger and Charger vehicles as they were the start of it all.  For the 2022 model year the Challenger remains true to its roots, maintaining the classic exterior muscle design with modern technologies being weaved right into its spaceship-like interior.  This vehicle is stunning from every angle and whilst the power and beauty are both there, the price is extremely fair for a vehicle like this starting at just $30,825 MSRP for the SXT model.
 2022 Dodge Challenger Models
LADH22-CHALLENGER SXT
LADL22-CHALLENGER GT
LADP22-CHALLENGER R/T
LADX22-CHALLENGER R/T SCAT PACK
LADR22-CHALLENGER SRT HELLCAT
 2022 Dodge Challenger Engine Options 
5.7L V8 HEMI VVT Engine
 3.6L V6 24V VVT Engine
6.4L V8 SRT HEMI Engine
 6.2L V8 Supercharged HO Engine 0 0Y
2022 Dodge Challenger Trims
For 2022 your new Challenger can be one of the offered 11 trims however the primary 3 options are SXT, GT and R/T, the remaining 8 trims all have to do with sport options including SRT and Scat Pack versions which we will go into briefly as a whole novel can be written on these marvels of engineering. The first two SXT and GT are offered in AWD and RWD-trains so that whether you live in the snowy states or on the oceanic shores you can be sure that the road style will not stop you.  The remaining trims are all RWD due to the performance nature of this muscle beast. 
2022 Dodge Challenger Engine Styles
For 2022 Dodge Challenger SXT and GT for sale the engine is a classic 3.6L V6 Pentastar which provides plenty of power for a 4 passenger coupe whilst maintaining fantastic efficiency allowing for less tears at the gas pump(let's face it in 2022 we are all crying at the gas station).  If you are seeking more power and want a true muscle style kick than you will need to bump yourself up to the R/T trim offering the iconic 5.7L V8 Hemi engine to propel you forward like a rocket to Mars. This model can be paired with an automatic or manual transmission to suit your driving style. After the R/T comes the 6.2L V8 Supercharged HO Engine as well as the 392 V8 SRT Hemi engine both available in manual and automatic options.  
2022 Dodge Challenger Color Options
What kind of a classic muscle vehicle would the Dodge Challenger be if it didn't come in a sleuth of unique colors to choose from.  For the 2022 Dodge Challenger for sale near me and near you there are basically endless color combinations including famous colors like Hellraisin, frostbite, octane red, TorRed, granite, smoke show and even indigo blue. Of course there are tones of other colors and you can even customize the interior when you factory order one exactly how you imagined it. 
Enabling your Dreams
At Jack Phelan we believe that car buying should be a fun and enjoyable experience and that is why we offer factory orders for all of our clients so that the vehicle they get is exactly what they have imagined.  We have simplified the process with home delivery options and no pressure sales.
Welcome to the #1
 2022 Dodge Challenger
Center in the United States Factory Order Program
Our Countryside, IL auto dealership is solely focused on creating a unique shopping experience, taking out the stress and bringing back the integrity by offering the best deals and prices available on your new Dodge Challenger and that is why we have created the Dodge Challenger Home Direct Program or PhD. This program allows you to buy a new Dodge Challenger from the comfort of your own home and having it delivered to your home or office without you needed to ever step into the dealership. We offer shipping nationwide and to all 50 states and we stock all sizes and all colors. The Dodge Challenger Home Direct Program is available in Alabama, Arizona, Arkansas, California, Colorado, Connecticut, Delaware, Florida, Georgia, Idaho, Iowa, Illinois, Indiana, Iowa, Kansas, Kentucky, Louisiana, Maine, Maryland, Massachusetts, Michigan, Minnesota, Mississippi, Montana, Nebraska, Nevada, New Hampshire, New Jersey, New Mexico, New York, North Carolina, North Dakota, Ohio, Oklahoma, Oregon, Pennsylvania, Rhode Island, South Carolina, South Dakota, Tennessee, Texas, Utah, Vermont, Virginia, Washington, West Virginia, Wisconsin, Wyoming. Shipping is quick and nationwide! Take the next step and reach out to us today. Do you have a particular vehicle in mind? Factory Order Program 2022 Dodge Challenger MSRP ONLY.