Factory Order Program 2022 Jeep Cherokee MSRP ONLY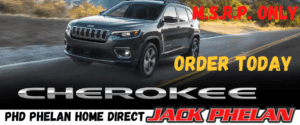 Factory Order Program 2022 Jeep Cherokee MSRP ONLY
Factory Order Program 2022 Jeep Cherokee MSRP ONLY
You may have seen the news, you may have heard the stories, and yes they are true: there is a chip shortage, but that does not mean that you cannot get your dream car.  With a little bit of planning and a little bit of work on our end we can get you into your dream vehicle asap.  Just pick out the features that you want and let us do the rest with a factory order!
 2022 Jeep Cherokee Models
2022 Jeep Cherokee
The Cherokee is an iconic mid-size SUV that gets the job done efficiently and comfortably.  Available in 4 unique trims for 2022 this vehicle is perfect for versatility, utility and much much more.  The 2022 comes in X, Latitude Lux, Trailhawk and Limited versions each equipped with details and features that just make sense.  If you want the 2022 Jeep Cherokee you can now order it from Jack Phelan and we can ship it directly to your home or office with our Phelan Home Direct Program.  No drama, no games, just easy purchase of your dream mobile. 
2022 Jeep Cherokee X
This is the first tier of the 2022 Cherokee and it comes available only in 4×4 which means it is ready for combating the not so open road.  Equipped with 17 inch black wheels and rugged all terrain tires this vehicle is ready for it all.  3.2L V6 is powering this Jeep which means that you get fantastic efficiency and just the right amount of power to trek the unpaved roads. The 3.2L V6 is a pentastar engine which means that it is reliable, durable and known for its ability to handle versatile environments, which is exactly what the Jeep brand is known for, its ability to handle any road conditions, on any continent.  If you are looking to buy the 2022 Jeep Cherokee X for the best price and you want it your way in your favorite color you can get it with Jack Phelan's special order program.  Build it, exactly how you want it and even select the packages that you would like. 
2022 Jeep Cherokee Latitude Lux
The 2022 Jeep Cherokee Latitude Lux for sale is the only Jeep Cherokee that is available in both 4×4 and FWD and this is because this vehicle is designed for those that seek a more leisure use of their Jeep.  This is the perfect truck for those looking to get the space and efficiency of a mid-size SUV whilst also getting comfort features and the ability to handle difficult road conditions when they arise, plus Jeeps are renowned for their safety. Because the 2022 Jeep Cherokee best price in this trim is aimed to please, it comes standard with the 8.4 inch Uconnect 4 and premium leather trim perforated bucket seats for better breathability and comfort. It also comes with two engine options, the 3.2L V6 for those seeking more power and the 2.0L I$ Turbo version that has the right mix of kick and is ideal for a daily commuter.  Contact us at Jack Phelan today to get yours and start driving as soon as possible. 
2022 Jeep Cherokee Trailhawk
This is my personal favorite trim of the Cherokee, because not only is it off-road ready but it also looks aggressive and mean.  This beauty comes with red highlights throughout, an improved suspension and black finishes to make it meaner, leaner and more exciting. It comes standard with premium vinyl/cloth seat mix, or premium leather trimmed bucket seats as an upgraded option for free.  It also comes standard with the Uconnect 4, 8.4 inch touch screen and Apple Car Play and Android Auto as standard. Upgrade it with convenience features and sun sound and navigation group or select the premium leather package for a more comfy interior. The Trailhawk is only available in the 3.2L V6 Pentastar, as well as the Active Drive II and standard off-road suspension.  It is ready to handle the unpaved road straight out of the box, with no modifications necessary. 
2022 Jeep Cherokee Limited
]The limited Cherokee is the perfect combination of power, suave and ability.  Standard with 18 inch wheels, color matched trims and bumpers and chrome accents this Cherokee screams comfort and luxury. Its fitted with premium leather-trimmed bucket seats, Uconnect 4.0 with Apple CarPlay and Android Auto as well as finishes and touches that scream of luxury. This one comes with two engine  options as well both in 4×4 and an optional elite package that includes ventilated front seats, hands-free power liftgate and more.

 2022 Jeep Cherokee
Towing Capacity
Welcome to the #1
 2022 Jeep Cherokee
Center in the United States Factory Order Program
Our Countryside, IL auto dealership is solely focused on creating a unique shopping experience, taking out the stress and bringing back the integrity by offering the best deals and prices available on your new Jeep  Cherokee and that is why we have created the Jeep  Cherokee Home Direct Program or PhD. This program allows you to buy a new Jeep Cherokee from the comfort of your own home and having it delivered to your home or office without you needed to ever step into the dealership. We offer shipping nationwide and to all 50 states and we stock all sizes and all colors. The Jeep Cherokee Home Direct Program is available in Alabama, Arizona, Arkansas, California, Colorado, Connecticut, Delaware, Florida, Georgia, Idaho, Iowa, Illinois, Indiana, Iowa, Kansas, Kentucky, Louisiana, Maine, Maryland, Massachusetts, Michigan, Minnesota, Mississippi, Montana, Nebraska, Nevada, New Hampshire, New Jersey, New Mexico, New York, North Carolina, North Dakota, Ohio, Oklahoma, Oregon, Pennsylvania, Rhode Island, South Carolina, South Dakota, Tennessee, Texas, Utah, Vermont, Virginia, Washington, West Virginia, Wisconsin, Wyoming. Shipping is quick and nationwide! Take the next step and reach out to us today. Do you have a particular vehicle in mind? Factory Order Program 2022 Jeep Cherokee MSRP ONLY.