Factory Order Program 2022 Jeep Wrangler MSRP ONLY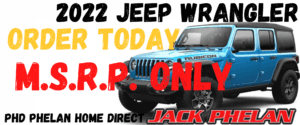 Factory Order Program 2022 Jeep Wrangler MSRP ONLY
Factory Order Program 2022 Jeep Wrangler MSRP ONLY
Best Price: Always
The past several years have been extremely hectic and for car buyers that has spelled trouble when shopping for a vehicle including dealing with heightened prices, lack of inventory and stress, but not with Jack Phelan.  We have used this as an opportunity to show clients how they can get the exact vehicle they want for a fair price and all they need to do is work with us on figuring out the exactly vehicle they want for the best price possible with our Phelan Home Direct Program that helps you get the vehicle of your dreams straight from the factory.
2022 Jeep Wrangler Models
JLJL74-WRANGLER UNLIMITED SPORT
JLJP74-WRANGLER UNLIMITED SAHARA
JLJS74-WRANGLER UNLIMITED RUBICON
JLXP74-WRANGLER UNLIMITED SAHARA 4XE
JLXS74-WRANGLER UNLIMITED RUBICON 4XE
JLJX74-WRANGLER UNLIMITED RUBICON 392
JLUL74-WRANGLER UNLIMITED SPORT RHD
 2022 Jeep Wrangler 
There are very few people in this universe who have not heard of the capabilities and the off-road prowess of the Jeep Wrangler and the lineage continues with the 2022 models.  All Jeep Wranglers are trail-rated and ready to take on challenging slopes, uneven paths and harsh climates and these abilities are some of the many reasons why the Jeep Wrangler is so wildly popular and even generates its own culture.  The other beauty of the Wrangler for sale near me and near you is its customizability, its color combination options as well as the many offered trims that allow you to make a Wrangler truly yours.  For 2022 The Jeep Wrangler comes in 12 amazing trims which leads to thousands of different feature, color and trim combinations including the Sport, the Willy Sport, The Sport S, The Willys, The Sport Altitude, The Sahara, The Rubicon, the Sport RHD, The Sahara Altitude, The High Tide, The
To be or not to be Unlimited
The word unlimited has created some confusion in the past and we are here to clear it up, an unlimited package simply means that a Wrangler comes in a 4 door combination, allowing you more space to carry your friends and loved ones on your adventures.  If you prefer a more nimble and shorter Wrangler than the 2 door is right for you. However, both sizes are great for taking on the open road and some of the more luxurious and full of features versions do not come in the 2 door version. 
Engine Options
There are 5 different types of engines on the Wrangler which means that there is a drivetrain combination for every kind of Wrangler driver out there, from the mall crawler to the crazy rock climber. D The standard engine on most trims is the 3.6L V6 Pentastar engine with start/stop technology.  This engine is an improved rendition of the old time classic that is known for durability, high quality and resilience to driver abuse on the open or not so open road.  It is efficient yet powerful creating the ideal combination for a vehicle of the caliber of the Wrangler.  There is a second version of this engine including eTorque which brings forth a bit more power leveraging hybrid technologies.  
For those seeking a different experience the Wrangler is now offered in a 2.0L Turbo engine which means maximum efficiency on shorter inner city trips and plenty of power when getting outside of your comfort zone.  This engine is ideal for those seeking to utilize Wranglers off-road prowess only occasionally.
With gas prices as high as they are it's no wonder that many people are raising their curiosity in the 2022 Jeep Wrangler Turbo Diesel for sale.  Cleaner, safer and now significantly cheaper, the diesel option Wrangler has a lot to offer including increased torque.  
For true fanatics of power and strength of the mopar engine there is the newest engine addition to the family to 5.7L V8 Hemi 392 engine offered exclusively on the Rubicon 392 trim of the Wrangler.  This beast is the engine you know and love that has been making Ford owners cry since 1969 and MOPAR bystanders gasp at the pure notes that emerge from the exhaust.  This version is nothing short of stunning and throwing you into the seat will remind you of the thrill you can get out of a Jeep.
 2022 Jeep Wrangler Engine Options 
3.6L V6 24V VVT Engine Upg I w/ESS
2.0L I4 DOHC DI Turbo Engine w/ ESS
3.6L V6 24V VVT eTorque Engine Upg I
3.0L V6 Turbo Diesel Engine w/ESS
6.4L V8 SRT HEMI MDS Engine
2.0L I4 DOHC DI Turbo PHEV Engine
Factory Order Program 2022 Jeep Wrangler MSRP ONLY
Factory Order Program 2022 Jeep Wrangler MSRP ONLY
Welcome to the #1  Jeep Wrangler  Center in the United States Factory Order Program
Our Countryside, IL auto dealership is solely focused on creating a unique shopping experience, taking out the stress and bringing back the integrity by offering the best deals and prices available on your new Jeep Wrangler c and that is why we have created the Jeep Wrangler  Home Direct Program or PhD. This program allows you to buy a new Jeep Wrangler from the comfort of your own home and having it delivered to your home or office without you needed to ever step into the dealership. We offer shipping nationwide and to all 50 states and we stock all sizes and all colors. The Jeep Wrangler Home Direct Program is available in Alabama, Arizona, Arkansas, California, Colorado, Connecticut, Delaware, Florida, Georgia, Idaho, Iowa, Illinois, Indiana, Iowa, Kansas, Kentucky, Louisiana, Maine, Maryland, Massachusetts, Michigan, Minnesota, Mississippi, Montana, Nebraska, Nevada, New Hampshire, New Jersey, New Mexico, New York, North Carolina, North Dakota, Ohio, Oklahoma, Oregon, Pennsylvania, Rhode Island, South Carolina, South Dakota, Tennessee, Texas, Utah, Vermont, Virginia, Washington, West Virginia, Wisconsin, Wyoming. Shipping is quick and nationwide! Take the next step and reach out to us today. Do you have a particular vehicle in mind? Factory Order Program 2022 Jeep Wrangler MSRP ONLY.