Factory Order Program 2022 RAM 1500 Classic MSRP ONLY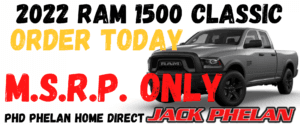 Factory Order: Avoid the Craze
You or someone you know may have fallen victim to the so-called chip shortage and ended up overpaying for a vehicle that was not exactly what they wanted or even settling for a model that they did not prefer in order to simply lock in a vehicle.  For 2022 if you partner with Jack Phelan you no longer have to worry about that as you can order straight from the factory with the exact features that you desire.  Let us help you get the ideal price and the ideal feature set for what you are looking for.
Factory Order Program 2022 RAM 1500 Classic MSRP ONLY
2022 Ram 1500 Classic Models
DS6H98-1500 SLT CREW CAB 4X4 (140.5IN WB / 5FT 7IN BOX)
DS6L98-1500 TRADESMAN CREW CAB 4X4 (140.5IN WB / 5FT 7IN BOX)
DS6L91-1500 TRADESMAN CREW CAB 4X4 (149.5IN WB / 6FT 4IN BOX)
DS6H41-1500 SLT QUAD CAB 4X4 (140.5IN WB / 6FT 4IN BOX)
DS6L41-1500 TRADESMAN QUAD CAB 4X4 (140.5IN WB / 6FT 4IN BOX)
DS6L61-1500 TRADESMAN REG CAB 4X4 (120.5IN WB / 6FT 4IN BOX)
DS6L62-1500 TRADESMAN REG CAB 4X4 (140.5IN WB / 8FT 0IN BOX)

2022 Ram 1500 Classic Factory Order
If you love the Ram brand as much as we do but yearn for the classic appeal of the previous build that has been iconic for decades then you are in luck.  With Ram you can acquire a brand new 2022 model Ram 1500 with the look and feel of the older generation, sporting all of the features and all the glory of the traditional Ram 1500, hence why the classic appears in the name.  This model comes in three available trims: Tradesman, Express and Warlock each with their own unique sets of features and benefits. 
The 2022 Ram 1500 Tradesman
The 2022 Ram 1500 Tradesman is the ideal truck for the hard worker, for that challenging job site or even for that daily no thrills commute.  It is ideal for those that like the minimalist approach to life and strive to appear classy yet not flashy.  The Tradesman is available in a Regular Cab design which is no longer available on many pickup trucks within the United States. However, you can also pick crew cab and quad cab and even select your preferred box size. This amazing truck comes with plenty of color options to choose from and allows for true customization that is up to your liking, especially when you choose to factory order yours exactly how you would like it.  There are two engine options which prioritize fuel consumption or power output respectively.  You can pair the engines with the proper transmission options as well as select additional features such as an anti-spin differential rear axle and your preferred axle ratio.  
The 2022 Ram 1500 Express
The 2022 Ram 1500 Express is available in 4×4 or 4×2 drivetrains and offers plenty of amazing finishes to satisfy most client types and provides a slightly more luxurious aesthetic than the 1500 classic tradesman.  This one comes standard with upgraded wheels, upgraded color matched fenders and is also available in a couple of engine options and cab options.  Pair it with your favorite interior features to make an ideal truck for your personal or business use. 
The 2022 Ram 1500 Warlock 
If you are looking for a more classic off-road look the 2022 Warlock brings back the Ram Rebel classic design with all the options and a new name.  Get the classic off-road monster that you may not have had a chance to acquire back when it originally released.  This is the one to have when you are daring enough to challenge the open or never-built road.  For 2022 The Ram 1500 Warlock classic is certainly a beauty and the timeless design shines through with many different color options to choose from.
2022 Ram 1500 Classic Towing Capacity
Weights
Gross vehicle weight rating (GVWR) (lbs.)
6,025
Towing capacity (lbs.)
4,940
Gross combined weight rating (GCWR) (lbs.)
9,85
Welcome to the #1  RAM 1500 Classic Center in the United States Factory Order Program
Our Countryside, IL auto dealership is solely focused on creating a unique shopping experience, taking out the stress and bringing back the integrity by offering the best deals and prices available on your new Ram 1500  Classic and that is why we have created the 1500 Classic  Home Direct Program or PhD. This program allows you to buy a new RAM 1500 Classic from the comfort of your own home and having it delivered to your home or office without you needed to ever step into the dealership. We offer shipping nationwide and to all 50 states and we stock all sizes and all colors. The RAM  1500 Home Direct Program is available in Alabama, Arizona, Arkansas, California, Colorado, Connecticut, Delaware, Florida, Georgia, Idaho, Iowa, Illinois, Indiana, Iowa, Kansas, Kentucky, Louisiana, Maine, Maryland, Massachusetts, Michigan, Minnesota, Mississippi, Montana, Nebraska, Nevada, New Hampshire, New Jersey, New Mexico, New York, North Carolina, North Dakota, Ohio, Oklahoma, Oregon, Pennsylvania, Rhode Island, South Carolina, South Dakota, Tennessee, Texas, Utah, Vermont, Virginia, Washington, West Virginia, Wisconsin, Wyoming. Shipping is quick and nationwide! Take the next step and reach out to us today. Do you have a particular vehicle in mind? Factory Order Program 2022 RAM 1500 Classic MSRP ONLY.