Factory Order Program 2022 RAM 1500 MSRP ONLY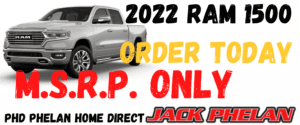 Factory Order Program 2022 RAM 1500 CREW CAB 4X4 MSRP ONLY
2022 Ram 1500 
Factory Order 2022 Ram 1500 
The Ram logo and brand has been iconic in the rugged and terrain ready vehicle space for generations.  Starting in the early 80's Ram has been helping America grow for decades.  What is iconic about the Ram is its prowess, power and comfort all in one.  And for 2022 there are more options for you to choose from than ever before.  The 2022 Ram 1500 has something for everyone from the simple job site vehicle all the way to luxury and racing technologies. 
Factory Order
The world has been crazy and there are many people wondering where to even buy vehicles, but worry not, Jack Phelan has your back as we order straight from the factory and allow you to save.  No longer do you have to settle for features and colors you don't want, simply order with us and wait for your dream vehicle to arrive.
2022 Ram 1500 workline
For 2022 Ram offers 8 different trims with unique configurations for each but perhaps the most common usage for the Ram 1500 is for hard, strenuous labor and that is why the first two trims are geared towards just that. The Tradesman and Tradesman HFE offer a no thrills approach to the pickup truck. With basic appeal and rugged interior it is ready to handle the toughest jobs and because it is available in 4×4 it is also able to handle the toughest terrains. Choose your box type and order because you can get it exactly how you want it. If you want to add a feature or two it is exactly what you are paying for. Do not fret as you get the power of choice with the Ram brand.

2022 Ram 1500 Models
DT6H98-1500 BIGHORN/LONESTAR CREW 4X4 (144.5 in WB 5 FT 7 IN box)
DT6H98-1500 BIGHORN/LONESTAR CREW 4X4 (144.5 in WB 5 FT 7 IN box)
DT6P98-1500 LARAMIE CREW CAB 4X4 (144.5 in WB 5 FT 7 IN box)
DT6P91-1500 LARAMIE CREW CAB 4X4 (153.5 in WB 6 FT 4 IN box)
DT6R98-1500 LONGHORN CREW CAB 4X4 (144.5 in WB 5 FT 7 IN box)
DT6R91-1500 LONGHORN CREW CAB 4X4 (153.5 in WB 6 FT 4 IN box)
DT6M98-1500 LIMITED CREW CAB 4X4 (144.5 in WB 5 FT 7 IN box)
DT6M91-1500 LIMITED CREW CAB 4X4 (153.5 in WB 6 FT 4 IN box)
 DT6X98-1500 REBEL CREW CAB 4X4 (144.5 in WB 5 FT 7 IN box)
 DT6L98-1500 TRADESMAN CREW CAB 4X4 (144.5 in WB 5 FT 7 IN box)
DT6L91-1500 TRADESMAN CREW CAB 4X4 (153.5 in WB 6 FT 4 IN box)
DT6H41-1500 BIGHORN/LONESTAR QUAD 4X4 (140 in WB 6 FT 4 IN box)
DT6L41-1500 TRADESMAN QUAD CAB 4X4 (140 in WB 6 FT 4 IN box)
DT1E98-1500 HFE CREW CAB 4X2 (144.5 in WB 5 FT 7 IN box)
2022 Ram 1500 Engine Options 
3.6L V6 24V VVT eTorque Engine Upg I
5.7L V8 HEMI MDS VVT Engine
5.7L V8 HEMI MDS VVT eTorque Engine
3.0L V6 Turbo Diesel Engine Gen 3
2022 Ram 1500 Rebel
For the adventurous soul there is a special trim dubbed the Rebel.  This monstrosity is designed with dangerous terrains in mind and made for the driver who seeks thrills and glories on the open non-road surfaces.  Paired with upgraded shocks, a powerful engine and a lifted suspension this truck is built for the toughest challenges. Although if you like the appearance and want to use it for every day commute, we recommend you opt for the 4×4 drivetrain and the 5.7L Hemi engine so that you can hear the engine purr as you traverse the treacherous backroads. 
2022 Ram 1500 Luxury Options
The Ram does not have to be all rugged and stiff, it can also be cozy and comfortable and that is what the Limited and Limited Longhorn options bring to the table.  For 2022 you can choose from these two sleek beasts that come with a plethora of amazing features such as heated and ventilated seats, oversized 12 inch screen with Apple CarPlay and Android Auto and plush leather seats to keep you comfortable throughout your drive.  In these two trims ordering straight from the factory is the best way to get exactly what you want as there are tonnes of optional features to choose from. 
2022 Ram 1500 TRX
We saved the best for last! Yes the 2022 Ram 1500 TRX is something that you can factory order.  Pick your color, pick the features and be ready to experience the whopping horsepower that this beast brings.  With rugged, oversized tires, blacked out exterior accents and many more features the TRX is literally the best in its class.
2022 Ram 1500 Leisure
For 2022 Ram brings back the famous and beloved Big Horn and Laramie trims that allow for the perfect combination of power, creature comforts and appeal.  With sleek trims throughout this vehicle has the curb appeal necessary to be your daily truck or even a work horse for the manager level person. The truck comes with different combinations of features including even Apple Car Play or android Auto.  They do come with engine options that you can choose from as well as the drivetrain selection option so that you can get the exact truck that you need for the job or for your own enjoyment.  The Big Horn is perhaps the most popular and for 2022 you can choose from 4 different engine set ups, two V8 options and two V6 options.  If you factory order with Phelan Home Direct to get the best price, best deal 2022 you may even be able to secure the highly coveted 2022 Ram 1500 Big Horn with the 3.0L V6 Turbo Diesel Engine Gen 3.
2022 Ram 1500 Towing Capacity
Equally equipped for both work and adventure, the 2022 Ram 1500 has a towing capacity of up to 12,750 pounds( Disclosure1) when outfitted with the available 5.7L HEMI® V8 engine with eTorque.
Welcome to the #1  RAM 1500 Center in the United States Factory Order Program
Our Countryside, IL auto dealership is solely focused on creating a unique shopping experience, taking out the stress and bringing back the integrity by offering the best deals and prices available on your new Ram 1500  and that is why we have created the 1500  Home Direct Program or PhD. This program allows you to buy a new RAM 1500  from the comfort of your own home and having it delivered to your home or office without you needed to ever step into the dealership. We offer shipping nationwide and to all 50 states and we stock all sizes and all colors. The RAM  1500 Home Direct Program is available in Alabama, Arizona, Arkansas, California, Colorado, Connecticut, Delaware, Florida, Georgia, Idaho, Iowa, Illinois, Indiana, Iowa, Kansas, Kentucky, Louisiana, Maine, Maryland, Massachusetts, Michigan, Minnesota, Mississippi, Montana, Nebraska, Nevada, New Hampshire, New Jersey, New Mexico, New York, North Carolina, North Dakota, Ohio, Oklahoma, Oregon, Pennsylvania, Rhode Island, South Carolina, South Dakota, Tennessee, Texas, Utah, Vermont, Virginia, Washington, West Virginia, Wisconsin, Wyoming. Shipping is quick and nationwide! Take the next step and reach out to us today. Do you have a particular vehicle in mind? Factory Order Program 2022 RAM 1500 MSRP ONLY.