Factory Order Program 2023 Jeep Wagoneer MSRP ONLY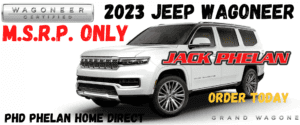 Factory Order Program 2023 Jeep Wagoneer MSRP ONLY
Factory Order Program 2023 Jeep Wagoneer MSRP ONLY
2023 Jeep Wagoneer
The 2023 Jeep Wagoneer is a continuation of the 2022 marvel of engineering that took the large SUV segment by storm. This 7 seater SUV is filled with features, comes at an affordable price and offers luxuries beyond its class. From the modern interior to the beautifully aggressive exterior the 2023 Jeep Wagoneer embodies the off-road capability of the brand whilst embracing its luxury capabilities. The 2023 Wagoneer comes in three fantastic trims the Series I, Series II and Series III each with more and more features than the previous and all available in 4×4 and 4×2 versions.
2023 Jeep Wagoneer factory order
The vehicle market has been rather volatile but that does not mean that you cannot get your hands on a 2023 Jeep Wagoneer before everyone else does, as long as you plan in advance.  With Jack Phelan we can help you lock in your order today so that you can be certain that your Wagoneer will be one of the first ones on the road.  We take great pride in ensuring a smooth and efficient service whilst ensuring that highest safety standards are met and pricing is fair and honest and that is perhaps what makes the Wagoneer and Jack Phelan so special and unique. 
2023 Jeep Wagoneer Engine Options 
5.7L V8 Engine with eTorque
3.0L I6 Hurricane SO Twin Turbo ESS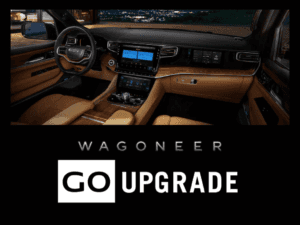 2023 Jeep Wagoneer Series I
The 2023 Jeep Wagoneer Series I is available in 7 distinct and unique colors including the Diamond Black, the baltic-gray metallic, silver-zynith, the river rock, the velvet red, the luxury white and the bright white. This trim comes standard with 7 seats for all of your friends and family and 18 inch wheels, which are upgradeable to 20 inch wheels.  The Series I is an entry level large luxury SUV which means capri leather trimmed seats are standard and available in two unique colors: global black and sea salt.  This behemoth also comes standard with the large Uconnect 5 Nav 10.1 inch touch screen display and offers many add-ons to personalize your new SUV. Choose from a plethora of packages and order today from your favorite Jeep dealer: Jack Phelan Chrysler Dodge Jeep Ram of Countryside.  Yes, you read that right, the orders are open and you can build your unique 2023 Jeep Wagoneer for sale starting today. 
2023 Jeep Wagoneer Series II
The series II Jeep Wagoneer brings you all the value of the Series I and takes it up a notch with more luxurious features including upgraded leather interior featuring Nappa leather, additional packages to choose from and finishes and touches that make the vehicle appear more unique and aesthetically pleasing, but the core beauty and the power of the engine remain the same with the renowned 5.7L V8 engine as standard paired with the 8 speed automatic transmission. 
2023 Jeep Wagoneer Series III
The series III Wagoneer for sale is the creme of the crop of the Wagoneer trims and includes the best and most luxurious features outside of the highly coveted Grand Wagoneer add ons and improvements that can be had. It for example comes standard with 20 inch wheels, which now can be upgraded to 22's on this trim,  it comes with Nappa leather and a large display but it also offers exquisite highlights on the exterior as well as ambient lighting and creature comforts galore. The Series III is every backpackers dream adventure mobile and now it can be yours too.
2023 Jeep Wagoneer Towing Capacity
Weights 
Specification 
Dimension
Gross vehicle weight rating (GVWR) (lbs.)
7,500
Towing capacity (lbs.)
10,000
Capacities 
Specification 
Dimension
Passenger volume (cu.ft.)
179
Maximum interior cargo volume (cu.ft.)
Specs and Dimensions 
Specification 
Dimension
Cylinder configuration
V-8
Horsepower (hp)
392 @ 5,600RPM
Torque (lb.-ft.)
404 @ 3,950RPM
Battery pack
48V lithium ion
Fuel economy – city (mpg)
16
Fuel economy – highway (mpg)
22
Gross vehicle weight rating (GVWR) (lbs.)
7,500
Towing capacity (lbs.)
10,000
Exterior length (")
214.7
Exterior body width (")
83.6
Exterior body height (")
75.6
Interior cargo volume (cu.ft.)
27.4
Maximum interior cargo volume (cu.ft.)
116.7
Front shoulder room (")
66.1
Rear shoulder room (")
65.2
Third shoulder room (")
64.4
Passenger volume (cu.ft.)
179
Welcome to the #1 2023 Jeep Wagoneer Center in the United States Factory Order Program
Our Countryside, IL auto dealership is solely focused on creating a unique shopping experience, taking out the stress and bringing back the integrity by offering the best deals and prices available on your new Jeep Wagoneer  and that is why we have created the Jeep Wagoneer  Home Direct Program or PhD. This program allows you to buy a new Jeep Wagoneer from the comfort of your own home and having it delivered to your home or office without you needed to ever step into the dealership. We offer shipping nationwide and to all 50 states and we stock all sizes and all colors. The Jeep Wagoneer Home Direct Program is available in Alabama, Arizona, Arkansas, California, Colorado, Connecticut, Delaware, Florida, Georgia, Idaho, Iowa, Illinois, Indiana, Iowa, Kansas, Kentucky, Louisiana, Maine, Maryland, Massachusetts, Michigan, Minnesota, Mississippi, Montana, Nebraska, Nevada, New Hampshire, New Jersey, New Mexico, New York, North Carolina, North Dakota, Ohio, Oklahoma, Oregon, Pennsylvania, Rhode Island, South Carolina, South Dakota, Tennessee, Texas, Utah, Vermont, Virginia, Washington, West Virginia, Wisconsin, Wyoming. Shipping is quick and nationwide! Take the next step and reach out to us today. Do you have a particular vehicle in mind? Factory Order Program 2023 Jeep Wagoneer MSRP ONLY.