Factory Order Program 2023 RAM ProMaster MSRP ONLY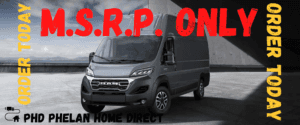 Factory Order Program 2023 RAM ProMaster MSRP ONLY
2023 Ram ProMaster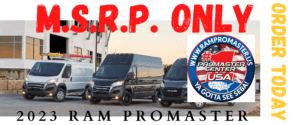 Factory Order Program 2023 RAM ProMaster
Factory Order Program 2023 RAM ProMaster
VF1L11-1500 CARGO VAN LOW ROOF (118 IN WB)
 VF1L12-1500 CARGO VAN LOW ROOF (136 IN WB)
VF1L13-1500 CARGO VAN HIGH ROOF (136 IN WB)
VF2L12-2500 CARGO VAN LOW ROOF (136 IN WB)
VF2L13-2500 CARGO VAN HIGH ROOF (136 IN WB)
 VF2L16-2500 CARGO VAN HIGH ROOF (159 IN WB)
VF3L12-3500 CARGO VAN LOW ROOF (136 IN WB)
VF3L13-3500 CARGO VAN HIGH ROOF (136 IN WB)
VF3L16-3500 CARGO VAN HIGH ROOF (159 IN WB)
VF3L17-3500 CARGO VAN HIGH ROOF (159 IN WB EXT)
2023 Ram Promaster Engine Options 
3.6L V6 24V VVT Engine
2023 Ram ProMaster
The Ram brand has been a staple in American industry for decades now and it still remains one of the favorites.  The Dodge Sprinter was beloved for its durability and efficiency but the ProMaster reigned supreme with its front wheel drive, versatile body styles to choose from and plenty of colors to match your brand.  And for 2023 the iconic ProMaster is coming in an entirely new body style that everyone has been waiting on.  This new look is not only sleek and modern but also comes with a brand new interior full of convenience features to choose from. 
2023 Ram ProMaster 1500 
The 2023 Ram ProMaster 1500 for sale near you and near me is available in different sizes including 2 different roof heights: low roof often called standard roof and high roof.  Whilst both are comfortable and provide plenty of headroom, the high roof allows for anyone under 76 inches tall to stand fully erect inside the cargo hold.  The 1500 also comes in 2 different lengths which are designated by the wheelbase: 118 inches and 136 inches.  The 118 provides 8 feet of floor length, and the 136 inches offers a whopping 10 feet of cargo floor length to utilize for various business needs.  This is an ideal cargo van for those on the move and on the go that need versatility, reliability and fuel efficiency.  The 2023 comes standard with the 3.6L V6 Pentastar engine and standard FWD so that you have traction and power sufficient for every job. However, perhaps the best reason to get the best price, best deal Ram ProMaster is its amazing maneuverability and thus tight turning radius.  The Ram ProMaster is one of the few vans that can pull a U-turn in a 2 lane road without hesitation. 
2023 Ram ProMaster 2500
If you need a little more weight capacity and cargo floor length the 2023 Ram ProMaster 2500 for sale is the perfect van for you.  Equipped with additional reinforcements to the suspension to carry more weight.  The 2500 is available in high roof and low roof just like the 1500 but the 2500 has a 136 inch wheelbase as well as the 159 inch wheelbase. The 159 inch wheelbase offers an astonishing 12 feet of cargo floor length fitting for most industries.  
2023 Ram ProMaster 3500
If your business needs a powerhorse and the ability to carry much more weight, the for sale best price 2023 Ram ProMaster 3500 is ideal for your needs.  Equipped with even more reinforcements to the suspension than the 2500 this van is ready to handle any challenges that you can throw at it. This van has all the features of the 2500 but can also be had in the 159 EXT wheelbase which offers an amazing 13 feet of cargo floor space. 
2023 Ram ProMaster Options
The ProMaster shines in its uniqueness because it also comes in cutaway and window styles to choose from to uniquely mold to your business needs.  Every business can benefit from a ProMaster.  And Jack Phelan is home to the number one Ram ProMaster center in the United States and not only do we have the most experience in the space but we also have certified Ram experts on site at all times and offer you our unique PhD program whereas you can get your new business fleet delivered to your doors.
2023 Ram Promaster Towing Capacity
Welcome to the #1  RAM ProMaster Center in the United States Factory Order Program
Our Countryside, IL auto dealership is solely focused on creating a unique shopping experience, taking out the stress and bringing back the integrity by offering the best deals and prices available on your new Ram ProMaster  and that is why we have created the ProMaster  Home Direct Program or PhD. This program allows you to buy a new RAM ProMaster  from the comfort of your own home and having it delivered to your home or office without you needed to ever step into the dealership. We offer shipping nationwide and to all 50 states and we stock all sizes and all colors. The RAM ProMaster Home Direct Program is available in Alabama, Arizona, Arkansas, California, Colorado, Connecticut, Delaware, Florida, Georgia, Idaho, Iowa, Illinois, Indiana, Iowa, Kansas, Kentucky, Louisiana, Maine, Maryland, Massachusetts, Michigan, Minnesota, Mississippi, Montana, Nebraska, Nevada, New Hampshire, New Jersey, New Mexico, New York, North Carolina, North Dakota, Ohio, Oklahoma, Oregon, Pennsylvania, Rhode Island, South Carolina, South Dakota, Tennessee, Texas, Utah, Vermont, Virginia, Washington, West Virginia, Wisconsin, Wyoming. Shipping is quick and nationwide! Take the next step and reach out to us today. Do you have a particular vehicle in mind? Factory Order Program 2023 RAM ProMasterMSRP ONLY.