New Jeep How to buy 2020 Jeep Grand Cherokee for Sale Near Me #Chicago,IL for Sale in Countryside, IL
There is a vehicle out here that compares with the most luxurious SUV's in the market for a fraction of the price and that vehicle is the 2020 Jeep Grand Cherokee.  The Jeep brand has always been a leader in the SUV market but until you have sat behind the wheel of the glorious Jeep Grand Cherokee you have been missing out.
The Jeep Grand Cherokee comes in the awesome trim line up including the Laredo and Laredo E the two budget versions that start at an MSRP of only $32,240 and $33,895 before rebates respectively.
If you want a Jeep geared more towards the off-road adventure you might want to check out the Upland model. Standard with black wheels and a bumper design optimized for some rougher trails it is your entry way into off-road luxury.  If you want a Jeep that will stick out from the crowds then you will love the Altitude package, a Laredo at heart the 2020 Jeep Grand Cherokee Altitude features the budget friendly pricing of the Laredo and pairs it with an appearance and tech group that gives you all the necessities to love your new vehicle including suede seating, blackout wheels and logos around the car and more.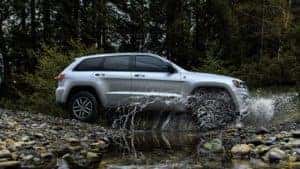 If you want to buy a vehicle that features an affordable sticker price but tons of features you will love the North Edition and the Limited edition available in 4×2 and 4×4 (North Edition 4×4 only).  The Limited comes standard with leather upholstery 18-inch x 8.0 inch tech gray aluminum wheels, 8 color options and from Jack Phelan a price way below the MSRP and often even below the invoice price.   The Limited is the best deal out there when talking about value and features but the Limited X is the marvel package you have been waiting for. The Limited X features upgraded wheels and latest technology four amazing color choices including the diamond black, slate blue, velvet red and bright white and an SRT styled hood with vents.
The next levels up are the Trailhawk – the off-road ready version which has a larger tire profile for more traction, a rugged appearance and tow hooks that help get you out of sticky situations, though more than likely you will be helping others get out.  There are many car dealers that sell SUV's but only one Jack Phelan Chrysler Dodge Jeep Ram where we have the best deals, lowest pricing and all the trims you might desire or want. 
 Phelan Home Direct Program.
 It is a very simple process.
📞
📞📞
📞📞
📞📞🚦 Call 708-294-2927 Ask for PHD program 🚦📞📞
📞📞
👇

👇

👇

👇

👇

👇

👇

👇

👇

👇

👇

👇

👇

👇

👇

👇

👇

👇

👇
Technology is growing exponentially and that means that there are now many standard features that used to be add ons.  Back-up camera, for example, is standard on all Grand Cherokees, radio and HUD controls on the standard leather-wrapped steering wheel are also standard.  Apple CarPlay and Android auto supporting Apple Maps, Waze and many other apps currently supporting CarPlay and text to voice text messages. Use Siri and Google Assistant to voice your comments and receive turn by turn navigation from the power of your handheld device.  All of these apps, of course, are shown on your center console infotainment car display.
Of course the best is reserved for last so if you are looking for some juicy details on the highest trims of the Grand Cherokee like the High Altitude, the Summit and the wow deserving Trackhawk just hang on.  Yes, we do have current offers on those models and we even have the best price discounts on Overlands and above as well as the lower models. Since we are a hard working dealership we do work with our customers to negotiate the price that is right for them.  Reach the higher altitude with the High Altitude, an Overland paired with a higher level appearance package. This black on black monstrosity gives you that classy sleek modern look and swaddles you in modern comforts. If you are looking to go a step higher you need to check out the Summit.  With sleek lines, chrome wheels and loads of technology features like the adaptive cruise control, heated steering wheel, ventilated or cooled seats and even air suspension you will feel out of this world. But let's say what really matters to you is the power, MOPAR has actually paired the heated seats comforts and all the technology with its amazing engine to bring you the 2020 Jeep Grand Cherokee Trackhawk, the 707 hp beats capable of getting you from A to Z in killer time.

Safety and security is important and that is why our experts are experienced and well versed in all the features of the vehicle and we understand your worries about spending time in the dealership and that is why we have created the Phelan Home Direct Program.  This program allows you to buy your next vehicle entirely online without ever having to leave your home or office. Simply browse our online inventory and pick the car you want and we will help you secure financing and get the lowest payment possible, then we will ship the car to your door, ask one of our experts if you qualify for free shipping to save even more.  Yes, you read that right, buying your next brand new Jeep Grand Cherokee is now possible online.