New Grand Cherokee Summit Chicago Best Lease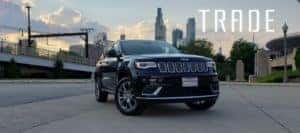 The 2020 Jeep Grand Cherokee Summit is the cream of the crop when it comes to luxury SUV.  Our team of photographers decided to take the Summit around the idyllic city of Chicago and pose it for your viewing pleasure. The latest model Jeep Grand Cherokee for sale in Chicago Illinois offers the finest materials, the latest technology and highest safety ratings imaginable.  Plus with the best price and amazing rebates you win when you choose Jack Phelan. 
The 2020 Jeep Grand Cherokee was taken to the rooftop of a local Best Buy parking lot from which you can see the gorgeous skyline of the Windy City.  Located on Roosevelt road this parking lot is accessible to the public and you too can take pictures of your gorgeous Jeep there. 
Another location that our team took the Jeep Grand Cherokee was slightly west off of the entrance to Northerly Island overviewing some gorgeous buildings and a Metra track.  The amazing luxury Summit trim of the Jeep Grand Cherokee truly stands out from the crowd at this royal feeling location.  
Jeep is about unity and when you buy the best deal or best lease Jeep Grand Cherokee form Jack Phelan, the highly rated dealership serving Chicago Illinois you join not one but two families, the Jeep brand royalty and the Jack Phelan family.  To solidify unity we had our photographers trek out to Rogers Park to take photos of the Jeep Grand Cherokee by a large mural on the Eastern wall of a local Anytime Fitness Gym.  The parking lot is visible from the street so you too can enjoy this marvelous artwork.