How Often to Change Engine Air Filter

Replacing the engine air filter may be quick and easy, but it's actually a crucial part of maintaining your car, truck, or SUV. Automakers recommend that you change the engine air filter every 30,000 to 45,000 miles, although the specific interval will vary based on your make and model. We recommend checking your owner's manual for details first to see if the manufacturer provides guidelines for your vehicle.
Below, we'll look at how often to change the engine air filter, and other service intervals. Contact the Jack Phelan Dodge Chrysler Jeep Ram service center to speak with a certified technician in Countryside — we're happy to answer any further car-care and maintenance questions!
---
What Does An Engine Air Filter Do?
The engine air filter does the important work of protecting your engine from dirt, dust, sand, and other contaminants. Over time, the engine air filter gets clogged and becomes less effective — leaving your engine vulnerable to debris that can work its way inside and disrupt performance. Look out for the following warning signs that your engine air filter needs to be replaced:
Misfiring spark plugs
Sluggish acceleration
Service Engine dash light is on
Black smoke from the exhaust
A clogged or dirty engine air filter can also have a negative impact on fuel economy. However, the difference won't be noticeable unless you record how many miles you now get from a full tank, and compare the figure with the mileage you should be getting.
---
Engine Air Filter Replacement Schedule
Some driving habits or conditions cause your engine air filter to clog more quickly than normal. If you often drive on dirt or gravel roads, or in heavy traffic on hot days, you'll need to replace the engine air filter more frequently than the manufacturer-recommended interval in your owner's manual.
So how often should you change engine air filter if your daily driving conditions cause it to clog more quickly? We recommend watching out for the warning signs of a dirty filter, and changing it out yourself! In most cars, the engine air filter compartment is easy to locate and access, and your manual should provide step-by-step instructions and an illustration of where you can find it. Usually, you just need to open the compartment, remove the filter, and drop a new one right in.If you'd rather let a professional handle filter changes, no problem! We can take care of it at our service center near Oak Lawn. Plus, our
parts department
is your go-to source for the replacement filters, and genuine replacement parts or
accessories
for your vehicle.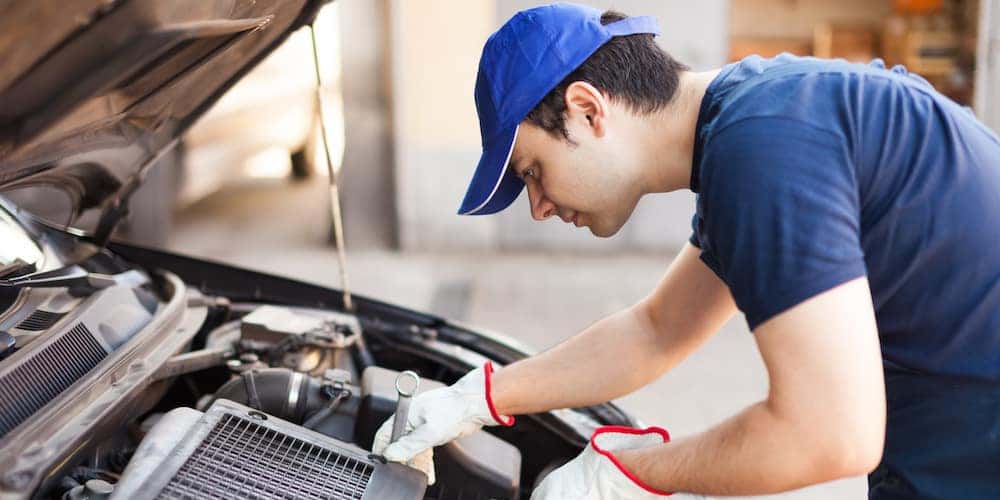 ---
Rely on Jack Phelan Dodge Chrysler Jeep Ram for Expert Auto Service!
We're proud to serve Forest Park and Chicago drivers with excellent auto service, fair prices, and service specials. Don't hesitate to contact us if you'd like to learn more about your vehicle's routine service schedule from our knowledgeable team! You can also read our other service tips to learn the answer to questions like "How many miles do tires last?"
---
Auto Service Coupons